About / Contact Us
The Metro Cruise has a storied history... Scroll down for our Contact info.
The 28th Street Metro Cruise began in 2005.  The Wyoming-Kentwood Area Chamber of Commerce began the event to help drive business to the 28th Street corridor when M-6 opened on the south end of Grand Rapids.  The Cruise has been held every August since.
Cruising 28th Street, as well as car gatherings at Rogers Plaza, began long before this event was created.  Cruisers have long considered 28th Street a memorable place for car lovers, particularly.  Bringing car lovers together to celebrate this long-standing tradition was the foundation for the current event.  Cruisers have shown up in the thousands to reminisce, and that number continues to grow.  All types of vehicles participate in the event: hot rods, low riders, muscle cars, performance cars, rat rods, restomods, classics, antiques, even motorcycles!
Since 2005, the event has grown from 85,000 attendees the first year to over 250,000 in recent years.  The number of participating vehicles attending each year is estimated at over 15,000.  People have come from all over the United States to attend and participate in this annual event. It is an open event, without limits on the types of vehicles allowed, and is a non-judicated event.  This creates a very diverse lineup of cars.  In 2007, the Main Event sites expanded from one to two days.  The current event schedule runs on both Friday and Saturday.
Each year, the Metro Cruise® committee and a group of volunteers members gather to plan, organize, and manage the event.  Planning starts in the Fall as soon as the previous event is completed.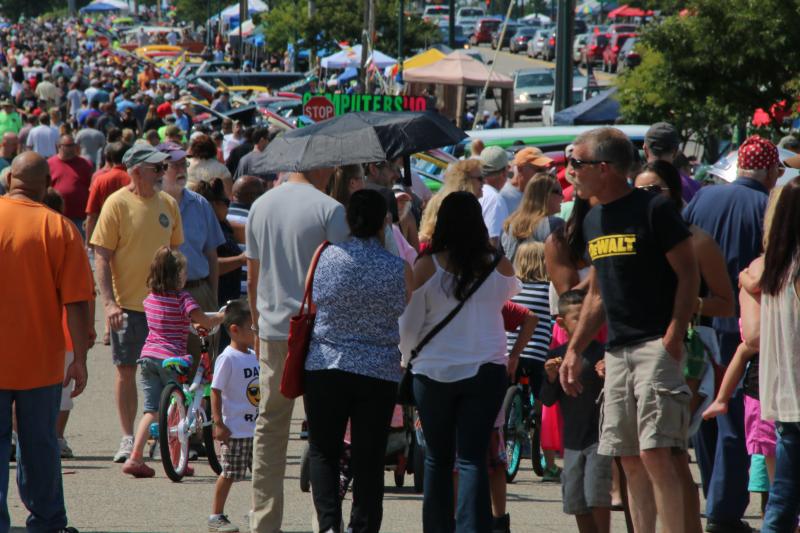 The 28th Street Metro Cruise® only happens with the participation of business sponsors.  It is an open event and all areas are free to attend.  Past venues have included a wide variety of activities such as the Metro Million – a show of high-end classic and antique collectible cars – and a Swap Meet, a Car Corral, Sock Hop, a Manufacturer's Midway, a Classic Car Auction, and Hop-Off Competitions have all been part of Metro Cruise®. 
Today, entertainment at Metro Cruise® Main Event sites of Rogers Plaza and Woodland Mall includes: The Dyno (where cars rev up to 160mph+ on a testing platform), Miss Metro Cruise® Finale (an event with Michigan-wide popularity with 3 local celebrity judges), 25+ food trucks/vendors/concessionaires, kid's entertainment tent (coloring, face painting, rock decoration, free wood car building kits), Official Metro-Merch area, Community Awards Ceremony, Metro Cruise Tours, 11 bands on the Main Stages, Metro Square entertainment area, antique fire trucks, and the famous Collector Car Rows consisting of 400+ collector cars.
The event is staffed by a small staff and awesome crew of volunteers.  Each year we seek more volunteers as Metro Cruise® continues to grow.  Don't miss the family entertainment event of the summer surrounding the love of the car!
METRO CRUISE Terms and Conditions